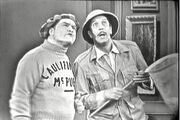 06/26/1962 - Cauliflower Loses His Birds
GS: Vincent Price - Mr. Gould
Opening: Fighting
Mime: Not evening boxing match.
Dance number: "Hooray for Hollywood"
McPugg's girlfriend tries to get him to stop seeing birds.
Cast: Stanley Adams - Dr. J.B. Proctor, Consulting Psychologist and Notary Public, Emmaline Henry - Rootie (McPugg's Girlfriend), Maudie Prickett - Mrs. Gould
Note: Doing McPugg for about 40 years. Can't show stage hands finger. $25 dollar charge. Boom mic part of opening mime. Name on door - Sy Coesis Psychiatrist. Cauliflower's full name is Caulifower Broccoli McPugg. Father vegetarian. McPugg's first fight was on June 18, 1947 8:05. First hear birds 8:06.
Originally schedules to air April 3, 1962 but changed due to the death of real boxer, Benny "Kid" Paret.[1]
Last show of the season, Last half hour show. Hour shows next season.
Has done 336 half hour shows in the last 11 years.
The Collector Edtion, Timeless #60765 (DVD)
---
Ep. 33 > Season 11 < Season 12 Ep. 01