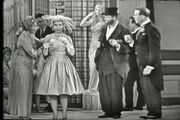 05/22/1962 - "Best Man Blues"
Opening: Vacation, Last Resort, Elizabeth Taylor, End credits.
Dance number: "Jeepers, Creepers" "Charleston"
Cast:
Dick Foran - Howard Snyder
Maria Palmer - Goo Goo
---
Howard Snyder, millionaire, remembers is promise to have Freddie as his best man at his wedding. The rich family want to get ride of him.
---
Frederick K. Freelaoder childhood friend to Howard, 35 years ago.
Spoofing the Gabor sisters.
Video release
Edit
---
DVD #64274
---
Ep. 30 > Season 11 < Ep. 32