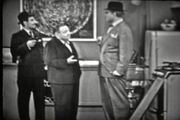 11/17/1959 - "Appleby the Weather Man"
Opening: 1st Annual Who's Who in Radio and Television 1960 award, Seagulls
Mime: Different people on airplanes.
Dance number: Dancers in spacesuits.
Appleby is able to predict the weather. The space program wants him and so to spies. They take him to there county but find out that Appleby predict the weather by his wife's ailments.
Cast:
Mercades McCambridge - Clara, Peter Lorre - , Jamie Farr - Lazlo, Frank Albertson - General Scott, Bob Carson - General Evans, Susan Shere - Zorina
Jamie Farr & Red Skelton, Timeless #66724