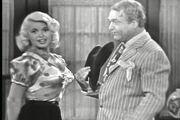 10/06/1959 - "Clem's Country Store"
Opening: Willie, General Store.
Mime: Little old man and little boy in general store.
Cast:
Jayne Mansfield - Daisy June
Jesse White - Moose
Jamie Farr - Nose
---
Clem gets work at a general store to make money to marry Daisy June. Escaped convicts switch places with Clem.
---
Watermelon
Video release
Edit
---
---