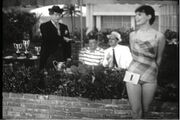 03/03/1959 - "Clem and the Beauty Pageant"
Dance number: Special dance at hotel swimming pool.
Cast:
Arthur Godfrey - Himself
Keefe Brasselle - Senor Alberto
Henry Vee Aqua Follies
Dave O'Brien - Mike
Gil Stuart - Hotel Manager
Art Gilmore - Desk Clerk
Jack Boyle - Bellhop
---
Clem becomes a judge for a beauty contest and is pressured by the sponsors.
---
Filmed at Miami Beach, Fountain Blue Hotel.
Video release
Edit
---
Ep. 17 > Season 08 < Ep. 19