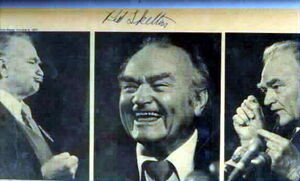 Welcome to Red Skelton Wiki
Database of the life and career of one of America's Clowns, Red Skelton.
Overview
Edit
Red Skelton was major comedian on stage, radio, film and television for about 60 years. His style of comedy was mix of finding silly thing with normal actions (Dunking donuts, getting dressed, climing stairs and more), corny jokes, puns with words, characters (drunk, boxer, western sheriff, southern con-man, hen-pecked husband and little child) and storytelling by mime. His career highlights were working as a walkathon comic during the depression, comedy clubs in Canada, performing for President Roosevelt, appearing on Rudy Valee's radio show, a contract with MGM, creating a motivation catch praise during World War II ("I Dood It"), having a television show on the air for 20 years, headlining in Las Vegas, a painter of clowns and bringing meaning to the Pledge of Allegiance.He died September 17 1997.
Grandparents (Newton Skelton, Joseph A. Eheart - Ella Richardville) * Parents (Joseph E. Eheart - Ida Mae Fields) * Brothers (Denny, Chris and Paul)
Vincennes
Walkathon * Canada * Las Vegas
MGM
Television 1951 - 1971
Edit
Television Seasons * Cast (Televison) * Guest Stars * Characters
Latest activity
Edit
Community content is available under
CC-BY-SA
unless otherwise noted.